India is certainly a land of wonders – be it the religious miracles we have heard about, or incredible temples that exits other than this it has its —–the rich mythological background of our culture or picturesque landscapes. so basically This land of wonders offers many unsolved and intriguing natural beauties.
in whole we can say that it is a country of great topographic diversity and scenic beauties, India is the most popular destination for surreal experiences.
some wonders are —-
1.Balancing Rock, Tamil Nadu
A massive stone, popularly known as the Krishna's Butter Ball, has balanced itself precariously at the slippery edge of a hill for ages is a curious tourist attraction in Mahabalipuram, located in a town about 60 km south of Chennai famous for its stone carvings. The "butterball" is a giant balancing rock, 5 meters in diameter, perched on a smooth slope, seemingly defying all laws of physics.
2. Golconda Fort, Hyderabad
Golconda Fort, a spectacular monument, is situated on the western periphery of Hyderabad City. This majestic fort pours out the rich cultural heritage of ancient India. Muhammad Quli Qutub Shah, as an insignia of Nawabi culture, built the fort in 1525. Golconda Fort was popular for its diamond trade and it is widely believed that the famous 'Kohinoor' diamond originated here. The meticulous details and fine architecture of the fort fascinate the travelers and history lovers from all over the globe.
3.Lonar Crater Lake
Set off to the outskirts of Lonar town, Maharashtra and you would come across a rather interesting formation that appears like it was hit by a massive ball from outer space. Said to be the world's third largest crater, the Lonar Crater Lake came into being 50,000 years back as a result of a meteorite hitting the earth, causing the depression.
4. Needle Hole Point Mahabaleshwar – Natural rock formation that appear like an elephant's trunk
For a rare view of nature, head to Needle Hole Point / Elephant Point, Mahabaleshwar to witness what seems to be finely sculpted by a craftsman. From here, you can take in the stunning sights of Deccan traps, which look like an elephant's trunk. The natural rock formation resembling the adored animal is uncanny. This site is located close to Kate's Point. It is referred to as Needle-hole as one can view a natural rock formation with a hole in between over here.
4.Belum Caves – Second largest cave in Indian subcontinent
Dash off to the enigmatic Belum Caves that has many delights hidden in its dark caverns. Famous for its stalactite and stalagmite formations, it is the second largest cave in Indian subcontinent (3229 metres) and the longest caves in the plains of the Indian Subcontinent.
In here are lengthy passages, airy chambers, fresh water galleries and siphons. This underground cavern was naturally formed due to the continuous flow of underground water. As of today, 3.5 km of this fascinating natural wonder has been successfully explored, though only 1.5 km is open to tourists.
5. Banni Grasslands Reserve – Enigmatic dancing lights
This might look like an occurrence of UFOs or that of ghosts. For long, the locals have alleged that they have witnessed some enigmatic dancing lights at Banni Grasslands Reserve in Rann of Kutch. Soliders and visitors have been creeped out too as these lights seemed to have followed them.
Named as Chir Batti, they appear to be as bright as a mercury lamp and can alter their colour into blue, red, yellow to a pear- shaped moving ball. At times they remain still and other times they move in a quick speed.
Scientists have gotten to the root of this phenomenon and claim that this happens so due to oxidation of methane from the marshes.
6. Loktak Lake – Floating vision
For a rather unique vision, scamper off to the nature rich region of Manipur. Over here lies the mesmeric Loktak Lake that appears as if it is floating. Said to be the only Floating Lake in the world, the formations (phumdis) are made of vegetation, soil and organic matter. This location has been a case of interest and intrigue among many. This water body is home to local villagers who have made thatched huts on these floating islands and get around in dugout canoes.
7. Sambhar Lake, Jaipur – India's largest inland salt lake amidst a desert
India's largest inland salt lake, the Sambhar Salt Lake is another wonder of the country. It lies in the arid Thar Desert. Usually desert areas are supposed to desolate and barren, however this water body is an exception. The lake is bowl shaped and rings the historical Sambhar Lake Town situated south west of the city of Jaipur.
Legend has it that, Shakambhari Devi, the tutelary goddess of Chauhan Rajputs and the consort of Lord Shiva, turned a dense forest into a plain of silver as a reward to the services done to her. The locals feared that greed would overcome people and hence, she later converted it into a lake. The shore over here till date has a temple devoted to Shakambhari Devi.
8. Magnetic Hill – Appears to defy gravity
A hill where your car appears to defy gravity and move upwards instead of downwards when put on neutral. Creating a rather fascinating optical illusion, the Magnetic Hill also known as 'Himalayan wonder' is located in the celestial like destination of Ladakh. The mountains, road, and hill are situated in such a manner that it looks like the area is an uphill terrain. Though, in truth, this is a bit downhill. That is why, when a vehicle is put out of gear, it appears it is rolling uphill. Interesting phenomena indeed!
9. Tirumala: Natural Arch
Some 2.5 million years ago, this arch was crafted by nature. More precisely, weathering and stream erosions should be thanked for this unique formation. Its eight meters wide and three meters tall, and called 'Silathoranam' in Telgu – meaning 'garland made of rocks'.
10. Himachal Pradesh: Manikaran Natural Springs
Admire nature's wonder at the Manikaran Natural Springs, which is at an elevation of 1760 meters (5774 ft). The water of the spring is extremely hot and said to have therapeutic powers, thus drawing hordes of tourists from across the world to bathe in the steaming water every year. It's a pilgrimage site as well as a tourist spot.
11. Yana caves , Karnataka
In the Sahyadri Hills of North Karnataka, Yana is a quaint Hill Station with a beauty that casts a spell and hills to appeal to the direst trekkers. Tucked in between one of the richest biodiversity centres of the world, Yana is a small hill station with immense beauty enough to captivate any soul that lays eyes on it. A small village located just 140 km from Hubli; Yana caves is famous as a centre of adventure, wildlife and religion hence proving to be the perfect getaway destination.
Blessed with the ever-enchanting greenery and freshness of the Sahyadri Hills of the Western Ghats, Yana is a hill station famous for housing two giant natural Limestone monoliths which attracts pilgrims in thousands every year. The Bhairaveshwara Peak and Mohini Peak are said to hold religious importance representing Lord Shiva and Goddess Parvati respectively. Coupled with religious importance, it is also a great place to trek and bird watch. A trek to the twin peaks involves a very steep 3 km long trek which is at its worst slippery and it 's best breezy. The Yana village which symbolizes the rustic Indian rural life with mud roads, mushroom-like huts and a laid-back lifestyle allows you to get a glimpse of life in the Western Ghats.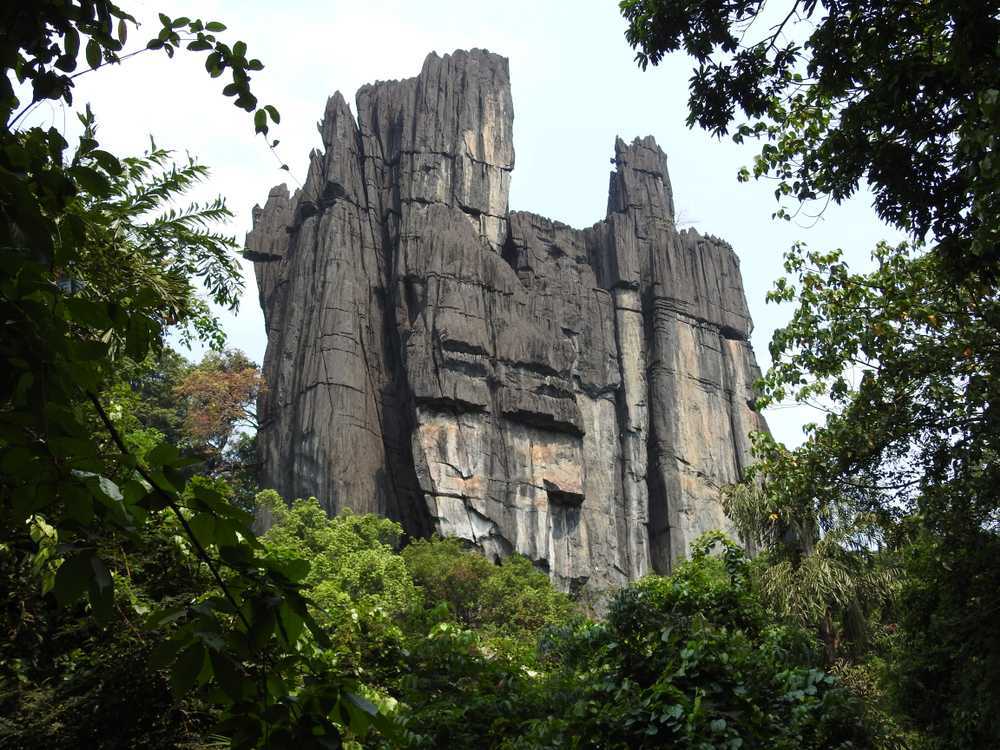 12. Borra Caves Visakhapatnam Andhra Pradesh
Located on the east coast of India, the Borra Caves are situated in the Ananthagiri hills of the Araku Valley in Visakhapatnam district. Breath taking hilly terrain, beautiful landscape, semi-evergreen moist deciduous forests, and wild fauna of the Borra Caves are a visual feast.
A marvellous creation of nature, the Borra caves were formed when river waters flow through a limestone area, and the calcium carbonate turns into calcium bicarbonate, which is easily washed out by the running water. The most striking feature of the caves is its exquisite variety of speleothems ranging in size.
Borra Caves are deemed to be among the largest in the country and are perched at a whopping elevation of about 705 metres. They are basically karstic limestone structures extending to a depth of 80 m and are considered to be the deepest cave in India. The combination of sunlight and dark conjures amazing dancing shaped in the depths of the Borra Caves, which is a sight in itself.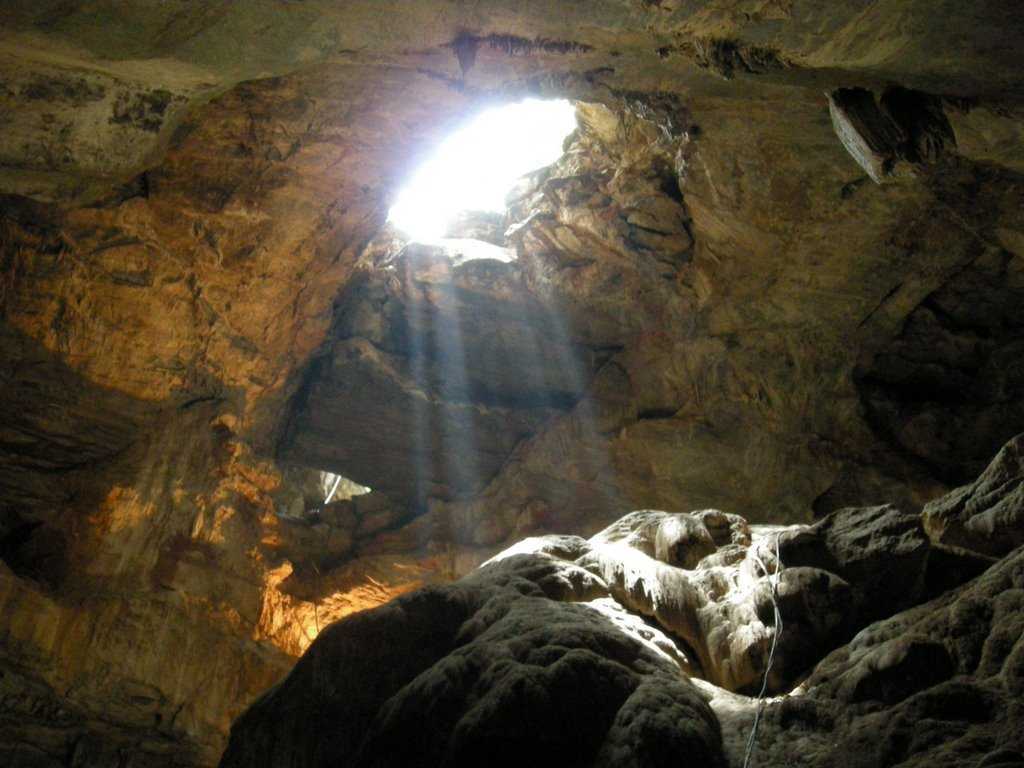 13. Marble Rocks, Bhedaghat Madhya Pradesh
The humongous limestone and magnesium rocks flank the river Narmada giving it the tourists an ethereal view of the many scenic locales that Bhedaghat has to offer.
To make it an even more memorable experience, come here during a moonlit night and we assure you that this destination would top your favourite places list even beating the likes of Paris. Boating facilities are available between the months of November-May and for obvious reasons they are shut during the monsoon months.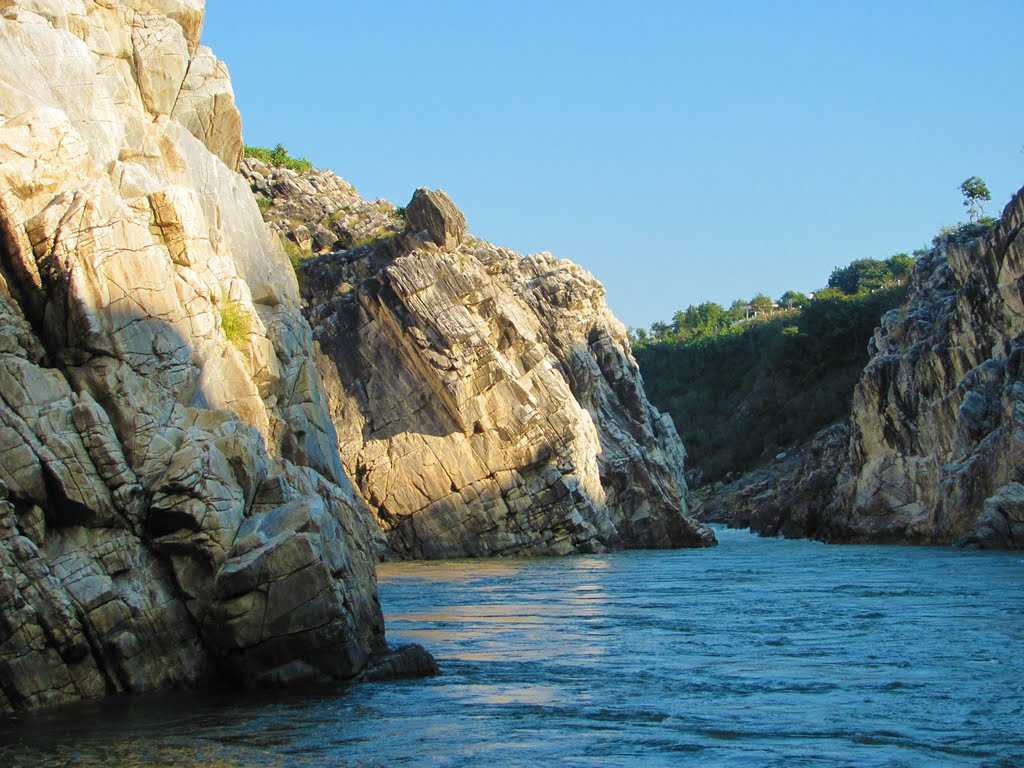 14. Double Decker Living Root Bridge , Cherrapunjee . Meghalaya
Hidden deep in the lush, green forests of the wettest place in India: Cherrapunjee, Meghalaya; one can find the magnificent Jingkieng Nongriat Double Decker Living Root Bridge; more commonly known as the Umshiang Double Decker Living Root Bridge or simply just the Double Decker Root Bridge.  This area is famous for root bridges made of Indian Rubber Tree, but the Double Decker Bridge is the most famous of all due to its large size. It is 3 kilometers long and placed at a height of 2400 feet! A unique attraction and quite an innovative mix of nature and engineering. The Umshiang River flows beneath the bridge.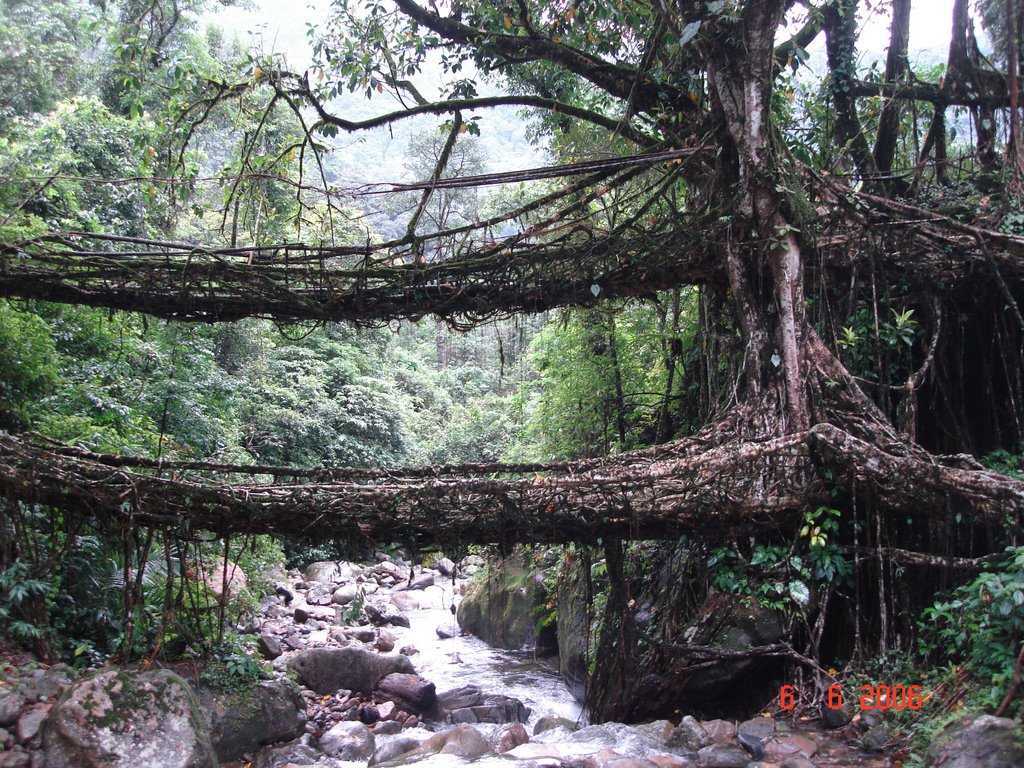 15. Reverse Waterfall . Lonavala .Maharashtra Goa
The Reverse Waterfall is a waterfall that flows in the reverse direction. This is one of the most popular reverse waterfalls in India and amongst the only few. Best visited during the monsoon, the trek to the waterfall is popular amongst the adventure enthusiasts.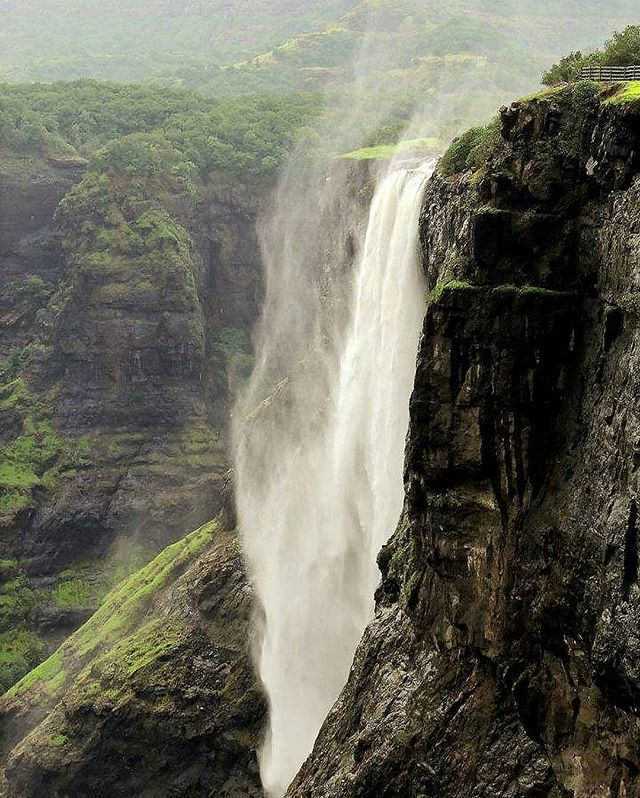 16. The Aleya Ghost Lights
These mysterious and scary Aleya Ghost Lights are found in the swamps of West Bengal. This unexplained and mysterious phenomenon makes it is a curious paranormal destination for travellers. Various gloomy and scary tales are narrated by local villagers, in evidence of the place's haunted nature. These colourful glowing lights are another riddle of nature, still unsolved by human beings!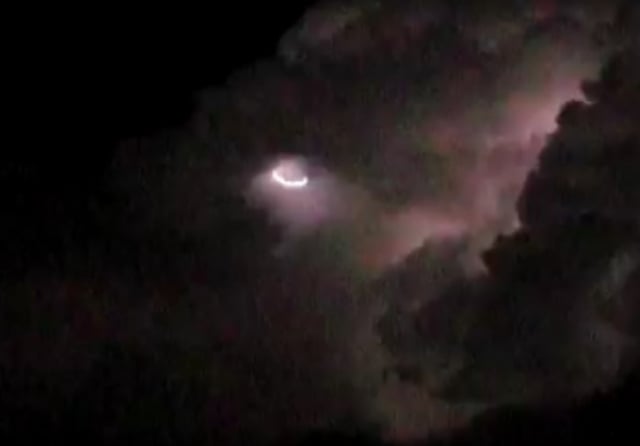 17. St. Mary's Island, Udupi Karnataka
The land where Vasco De Gama set his first foot, the land whose geological importance is immense and whose beauty is spectacular, is St. Mary's Island, Karnataka. A quaint island just off the coast of Udupi, St. Mary's Island is an island of white sand beaches, rock monoliths and great wildlife making it a mesmerizing place to be in.
Located just 4 miles off the coast of Karnataka in the Arabian Sea, St. Mary's Island is a geological treasure and hosts some of the most beautiful beaches in the country. It is a group of four individual islands namely Coconut Island, North Island, South Island and Daryabahadurgarh Island. One can find a shoreline made up full of crystalline rocks which were created at the time Madagascar Island got separated from India. The enchanting site is wonderful but is yet to be truly discovered for its tourism potential. Watching the sunset standing on the crystalline rocks is one of the most alluring experiences on the island.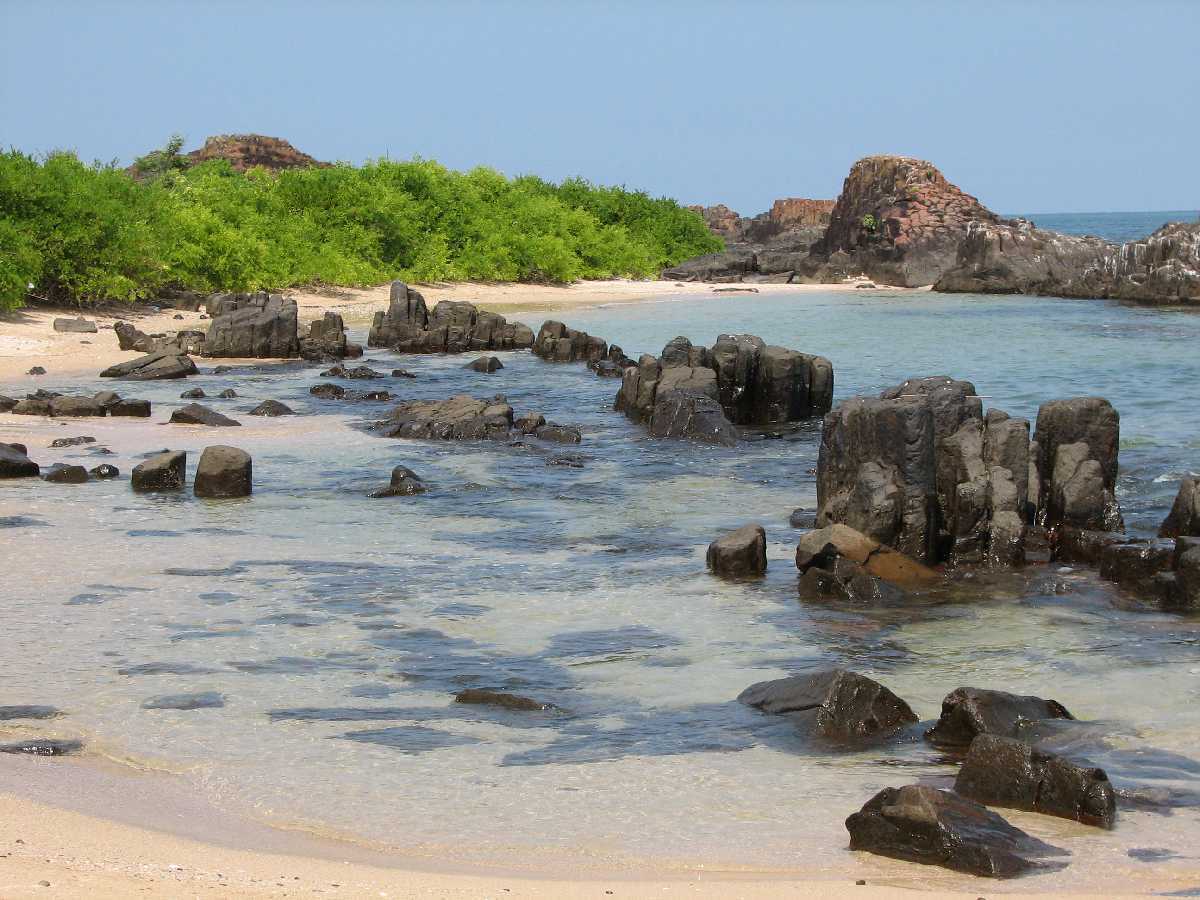 18. Mud Volcanoes at Baratang Islands, Andaman & Nicobar Islands
This is the only example of a known Mud Volcano in India. They have evolved sporadically in recent time and are now a major source of power generation.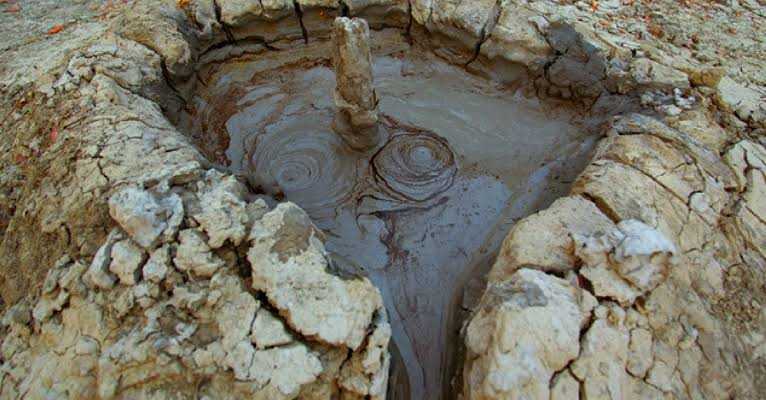 19. Nighoj, Pune Maharashtra Goa
Nighoj is an offbeat tourist destination 70 kilometres from Pune, nestled along the western ghats in the state of Maharashtra. The village's most prominent feature are the naturally occurring craters lined up against the bank of the river Kukadi, the breathtaking potholes are a true wonder of nature and also the main driving force behind tourism in this old world village. Nighoj has a certain air of mystery to it, replete with age old tales of the creation of the infamous potholes. It will leave you feeling intrigued at the might of the powerful Kukadi river that now stands still and instills a sense of solace in everyone who visits. The village hasn't been overly commercialised yet and is a great weekend destination if you want to enjoy the simpler pleasures of life.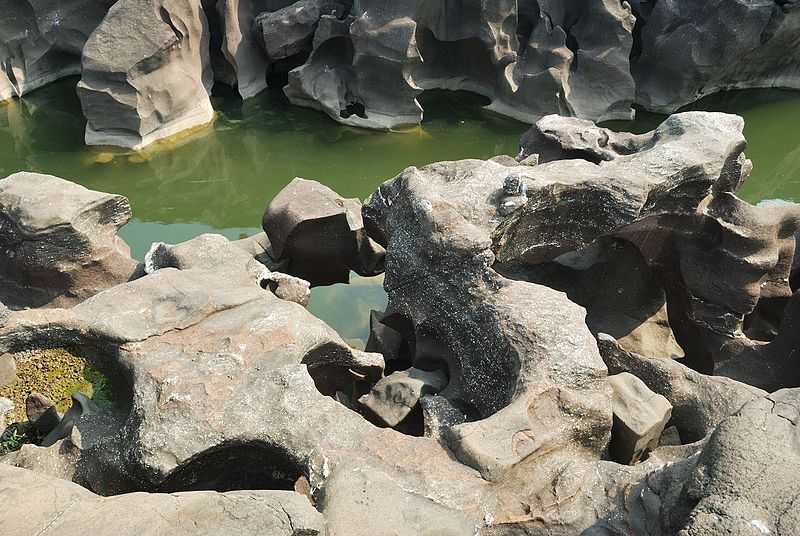 20. The hanging pillar of the Lepakshi temple
The ancient Lepakshi Temple of stone was built in the 16th century and is located on the rocky mount of Kurmasailam in Andhra Pradesh. This fantastic piece of architecture was built by Virupanna and Veeranna, two brothers who served the Vijayanagar Kings.
The temple stands strong supported by 70 pillars, and is popularly known for its one hanging pillar or column. This pillar is looked upon as a tribute to the mastermind builders who built temples during that era.
The pillar has been noticeably dislocated from its original position. It is said that it were the British engineers who had tried to meddle with the architecture, because of their curiosity to understand the fundamentals of this masterpiece.
So no doubt ,India is a place much more to explore and can be called as a wonderful country for adventure and sight seeing .
@manishanandan